Mulching Service
A little weeding and clean up with a fresh layer of landscaping mulch spread on top of your flower beds can take a landscape from zero to hero all in a day's work!
We Deliver and Install Mulch and Pine Straw
We do not offer material delivery as a stand-alone service, but if you are looking for a local landscaping company to perform your mulching service from start to finish, we'd love to provide you with our quote and answer any questions you may have regarding our service.
Learn more about having Green Touch Lawn Care deliver and install your new mulch or pine straw below.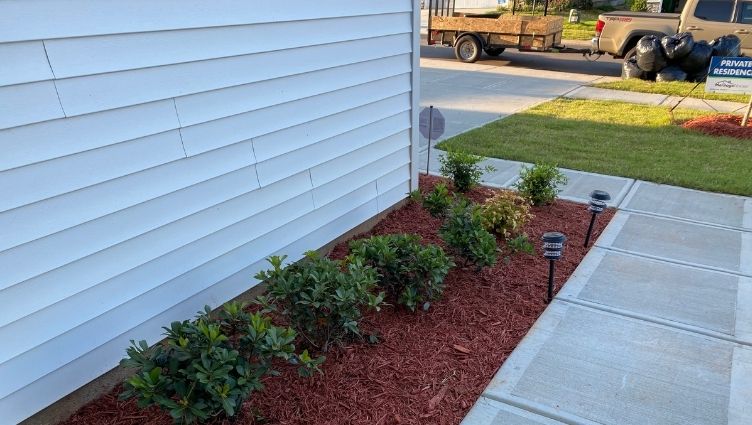 We Use The Best Mulch In Charlotte
All mulch is not created equal!  We source high-quality mulch from local landscape nurseries.  We've found 'double-shredded' hardwood mulch is a perfect consistency.  The wood chips large enough to stay in place and it holds its color for months on end.
The most popular colors of mulch in Charlotte and Mint Hill are dyed black and dyed brown.  Dyed red mulch is another color we often install.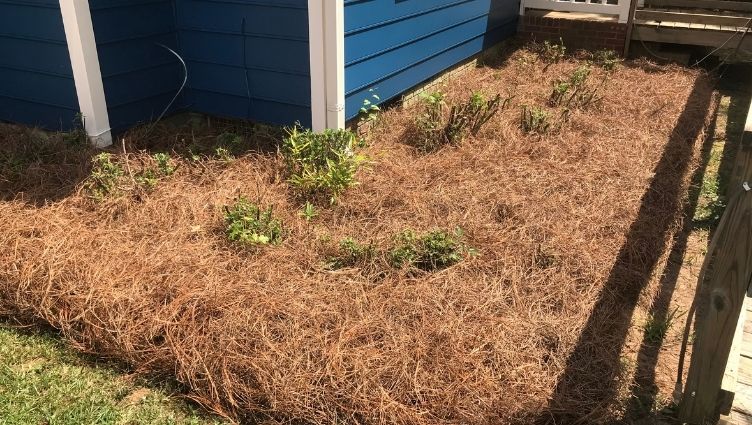 Pine Straw Is A Popular Mulch Alternative
While pine straw is fairly common in the South, mulch is still the predominant material used to topdress flower beds.
If you are looking to set your landscape apart from the rest of the mulched landscapes in your neighborhood, consider pine straw.  The type of pine straw we use is called 'long-needle rolled pine straw.'  It adds depth to your beds while still providing the same benefits of mulch which include weed suppression and moisture retention, along with its great appearance!

Mulching Service Details

 31 reviews
Every mulch or pine straw installation service starts with preparing your flower beds to take the new material. The preparation includes removing weeds, defining the landscape bed edges, and applying a pre-emergent herbicide to limit future weed growth.
You pick the material (we are glad to help you decide) and then we deliver and install it!
Get Mulch Installation Pricing ➡
Charlotte, NC 28227
(980) 288-5414
We're landscaping Charlotte! We want your landscape to be next. Along with mulch and pine straw spreading, we also offer other landscape services you may be interested in.

5-Star Rated Mulching Service
Hear what our current clients have to say about using our mulch & pine straw installation service in Mint Hill and nearby areas of Charlotte, NC.

Mulching in East Charlotte
We offer mulch and pine straw delivery and installation in the East and Northeast portions of Charlotte.

Do you have questions regarding our mulch spreading service?
We did our best to answer the most common questions we receive regarding our mulch and landscape maintenance services in our FAQ.
Response Time
0-15 Minutes